National Association for the Advancement of Colored People
The NAACP, formed in 1909, is a group dedicated to full political and civil rights for African Americans. In 1940 the NAACP established its nonprofit legal arm, the Legal Defense and Educational Fund (LDF), and won the landmark 1954 case Brown v. Board of Education. Its member, Rosa Parks, was also instrumental in helping launch the Montgomery bus boycott. The NAACP began working with CORE, SCLC and SNCC in 1962 to launch the Voter Education Project.
Student Nonviolent Coordinating Committee
The Student Nonviolent Coordinating Committee, founded in 1960, is working in conjunction with CORE on Freedom Summer. In 1961 organizer Bob Moses  moved to Jackson, Mississippi, and began organizing young Mississippi residents. Moses was firmly committed to non-hierarchical grassroots organizing, and joined the SNCC staff. Bob Moses is the director of Mississippi's Council of Federated Organizations.
SNCC's major contribution is in its field work, organizing voter registration drives all over the South, especially in Mississippi.
The Mississippi voter registration effort is creating conditions for racial reform by bringing together three crucial groups: dynamic and determined SNCC field secretaries, influential regional and local civil rights leaders from Mississippi, and white student volunteers who will participated in the ''Freedom Vote'' mock election of October 1963 and are currently working in Freedom Summer. SNCC also supports the formation of the Mississippi Freedom Democratic Party, an effort to challenge the legitimacy of the state's all-white Democratic Party.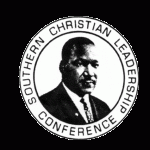 Southern Christian Leadership Conference
In 1957, Dr. Martin Luther King, Jr and 60 other Black ministers from the South formed SCLC. Their goal was to desegregate the bus system across the South. They, like SNCC and CORE, fight against racial inequality in the South with boycotts and nonviolent protests. SCLC leaders, Bayard Rustin and A. Randolph Philips, worked with James Farmer, the president of CORE, to coordinate the March on Washington in 1963.